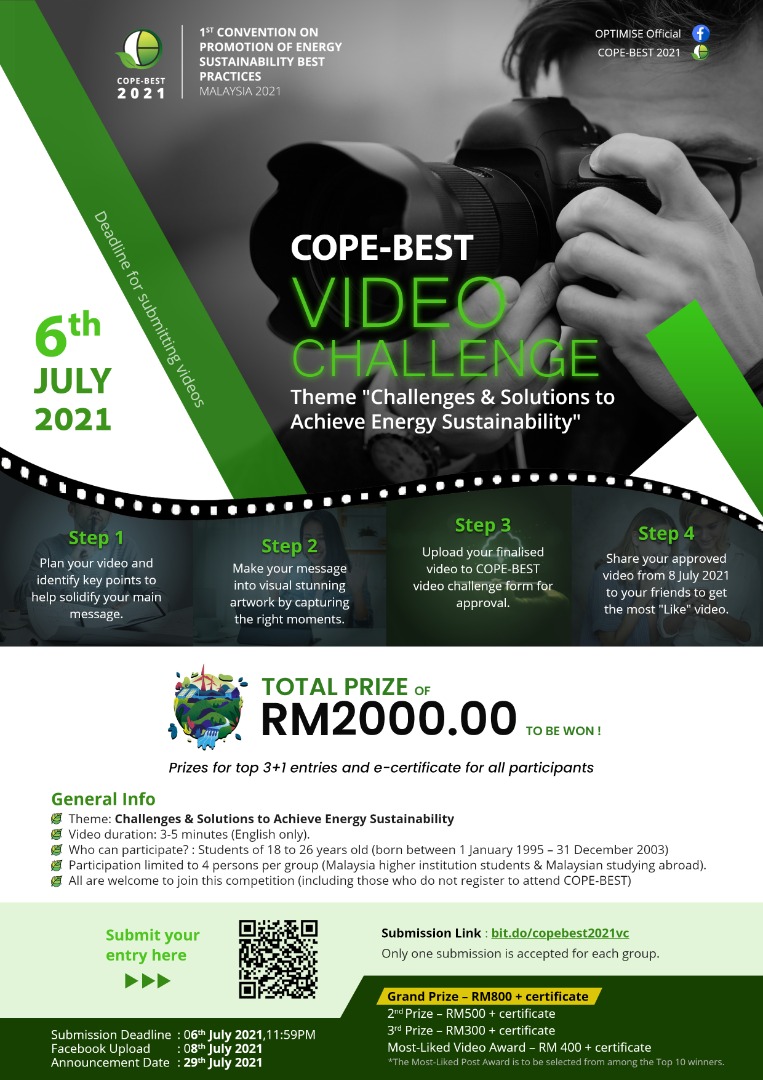 A chance for students of higher education institutions to win cash prizes by creating the #BEST video on Energy Sustainability! Simply form a group of up to 4 persons (students only) and start your journey on making the most creative and insightful stories that convey the selected theme. Have a talent or passion in creating contents, why not start here?
⭐ Challenge Guideline:
➊ Theme: Challenges & Solutions to Achieve Energy Sustainability
➋ Video duration: 3-5 minutes (English only).
➌ Limited to 4 members per group.
Eligibility:
➊ Students of 18 to 26 years old. (born between 1 January 1995 – 31 December 2003)
➋ All Malaysia higher institution students. (both local & international students)
➌ Malaysian studying abroad.
➍ Non-participant of COPE-BEST are welcome to join this competition.
T&Cs: Entry submission closes 6 July 2021 at 11:59pm. Winners will be chosen based on their total score of the judging criteria & will be announced during the final session of COPE-BEST 2021 on 29 July 2021.
For full info on this challenge:
bit.do/copebest2021vc
You are also invited to register and participate in COPE-BEST 2021 – [Virtual] Convention on Promotion of Best Practices in Energy Sustainability. Students now enjoy an exclusive early bird rate @ RM100/pax only.
More info on COPE-BEST 2021:
optimalsystems.my/cope-best