(data updated * 1 Jan 2023)
Faculty of Science
Administration, Undergraduate & Postgraduate Office
| | |
| --- | --- |
| Sunday – Wednesday | 8.00 am – 5.00 pm |
| Thursday | 8.00 am – 3.30 pm |
| Friday – Saturday | Close |
| Public Holiday | Close |
Majlis Penyampaian Anugerah Dekan & Hadiah Akademik
Faculty of Science Industrial & Innovation Showcase (SIIFS)
NEW STUDENT KIT
New to the Faculty?
Learn about your program, facilities, and campus life here.
Undergraduate Office (C17)
Telephone No.: 07 – 553 4043 / 34046 / 33542
Fax No.: 07 – 556 6162
E-mail: ugfs@utm.my
Website
Visit the Undergraduate Admission website for more information about undergraduate programs, admission requirements and how to submit your application.
We prepare graduate students for distinguished careers, and students from all disciplines and backgrounds are encouraged to apply to our Postgraduate programmes.
INTERNATIONAL STUDENTS
UTM is a diverse community that welcomes students from around the world. Explore more about programme offered, VISA application and Student Registration.
CSNano
The Centre for Sustainable Nanomaterials (CSNano) is one of the Centres of Excellence (COE) under Ibnu Sina Institute for Scientific and Industrial Research (ISI-SIR), Universiti Teknologi Malaysia. CSNano is an interdisciplinary research and educational centre focused on fostering the advancement of materials science at ISI-SIR, UTM. CSNano fosters the scientific and technical breadth of materials science, which spans research areas including inorganic antimicrobial materials, heterogeneous catalysts, porous nanomaterials, nano/molecular photochemistry, analytical science, separation chemistry, and quantum chemistry.
(more…)

Laser Center
Laser Center, Ibnu Sina Institute for Scientific & Industrial Research (ISI-SIR) at the Universiti Teknologi Malaysia. Laser Center is driven by excellence in research with research expertise in the particular areas of Lasers, Photonics, Plasma Physics and Fusion, and Nano-materials & structures. Laser Center is the first centre in the Malaysia to provide facilities and expertise for postgraduate research in field of Laser Technology and we continue this today through our constantly evolving latest research activates and facilities and delivered by world-leading experts.
(more…)
UTM-CIAM
UTM Centre for Industrial and Applied Mathematics (UTM-CIAM) is a Centre of Excellence (CoE) at Universiti Teknologi Malaysia (UTM). UTM-CIAM is established via a strategic cooperation with Oxford Centre for Industrial and Applied Mathematics (OCIAM), which was launched  through an MOU signed on  12 December 2012 in the presence of the Malaysian Minister for Higher Education, Dato' Seri Mohamed Khaled Nordin at St. Anne College, University of Oxford.
(more…)
SYSTEM AND SUPPORT SERVICE @FS
*click photos to view more
WHAT'S HAPPENING AT THE FACULTY OF SCIENCE?
Setinggi tahniah kami ucapkan kepada Dr. Nur Syazwin Mansor atas kejayaan beliau menerima ijazah PhD bidang penyelidikan matematik! Dr. Syazwin yang kini berkhidmat sebagai 'Statistician' di bahagian 'Big Data Analytics' DOSM telah diselia oleh PM Dr. Norhaiza Ahmad...
Visit FS Youtube channel to explore more about the faculty!
Subscribe to our channel and enjoy the videos!
Eligible only for UTM staff. Register here.
Personal Websites for UTM Academician, Researchers and Staff
register

People@UTM is created and maintained by UTM Corporate Affairs.

(https://utmwifi.utm.my/ticket)
Helpdesk: 8.00am to 6.00pm (Sunday – Thursday)
Hotline: 012 302 7900 (8.00am to 10.00pm)
Live Chat: 8.00am to 6.00pm (Sunday – Thursday)
Email: utmwifi@utm.my (8.00am – 6.00pm)
Kindly note all inquiries must be made using UTM formal email addresses.
Any inquiries using other email addresses will not be entertained.
After office hour email will be reply on next business day.

Address
UTMWiFi Helpdesk Centre
Block D07, UTMDigital Universiti Teknologi Malaysia
81310 Johor Bahru
Johor Darul Takzim.


012-302 7900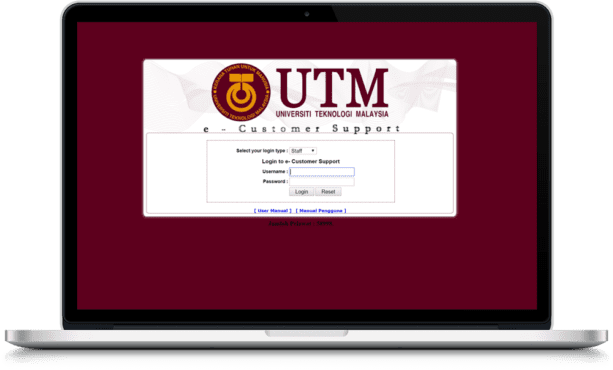 (https://ecs.utm.my)
Electronic Complain System (ECS) – Complaint system for facility damage, cleaning and pests. The system receives complaints directly from mobile phones and computers. Operate office hours.