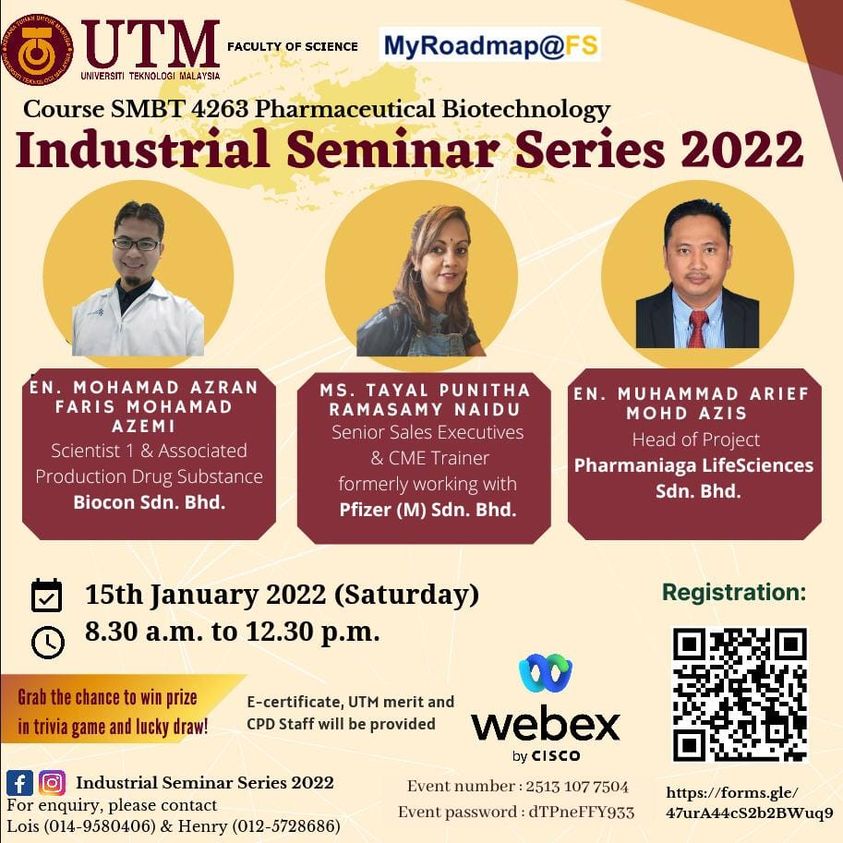 Hello, on behalf of Faculty of Science, UTM, final year Industrial Biology undergraduate students would like to invite you to our
INDUSTRIAL SEMINAR SERIES 2022
in PHARMACEUTICAL BIOTECHNOLOGY.
"`
DAYS MORE TO GO! DONT FORGET TO SAVE THIS DATE"`
Saturday, 15th January 2022
8.30 a.m. – 12.30 p.m.
Platform: Webex
Meeting link:
Meeting Number : 2516 668 6602
Password : 4rhFHg
Slots
1) Webinar Session from Pharma Industries
2) Q&A Session
3) Trivia Session
Prize: cash prizes for trivia winners
4) Lucky Draw
Prize: cash prizes for 10 winners
Don't missed out the chance to win the Trivia Game and Lucky Draw!
To register, click the link below
:
UTM E-certificate, UTM merit and CPD Staff will be provided for ALL participants.
For any questions please contact:
Lois: 014-9580406
Henry: 012-5728686
Don't miss this opportunity
See you there