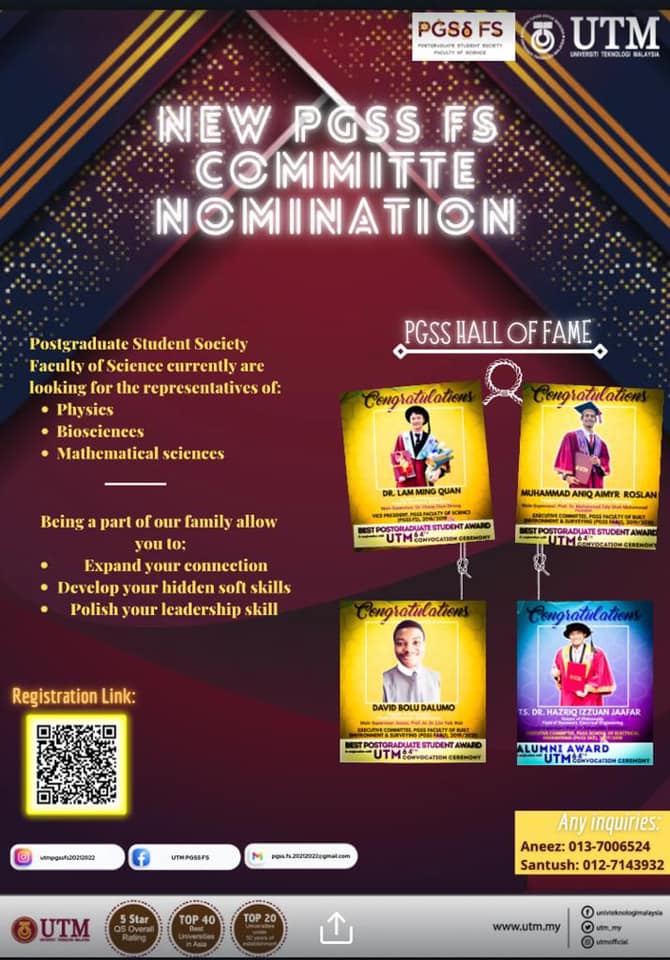 Assalamualaikum WBT
Salam Sejahtera
Salam UTM Sanjungan Bangsa
*[PGSS FS : NOMINATION FOR NEW COMMITTEE]*
Are you bored, walking to the lab or class every day without any activity to do?
Do you want to challenge yourself?
Like conducting your own program?
If *YES*, then you are the individual that we want in our committee.
Great news to all Postgraduate Students Faculty of Science (PGFS).
*Postgraduate Student Society Faculty of Science (PGSS FS)* is calling for nomination of additional members to participate PGSS FS 21/22 family.
Thus, don't miss the valuable opportunity and nominate yourself or your friend as the potential candidates latest by *Monday, 10 January 2022*. Hurry up! Grab your chance to be a part of PGSS FS family 2021/2022.
Positions available for the candidates as *Representatives* of;
1) Department of Biosciences
2) Department of Physics
3) Department of Mathematical Sciences
_Eligibility:_
Open to all postgraduate students of Faculty of Science.
Date: latest by 10 January 2022 *(MONDAY)*
Time: due to 11:59 PM (*Malaysia Time*)
Registration link:
https://docs.google.com/…/1FAIpQLScOQ9oqv9z…/viewform…
Any Inquiries, feel free to call:
*Santush*
https://wasap.my/60127143932
*Aneez*
https://wasap.my/60137006524
Committee of Multimedia and Publicity
Postgraduate Student Society (PGSS)
Faculty of Science
Session 2021/2022