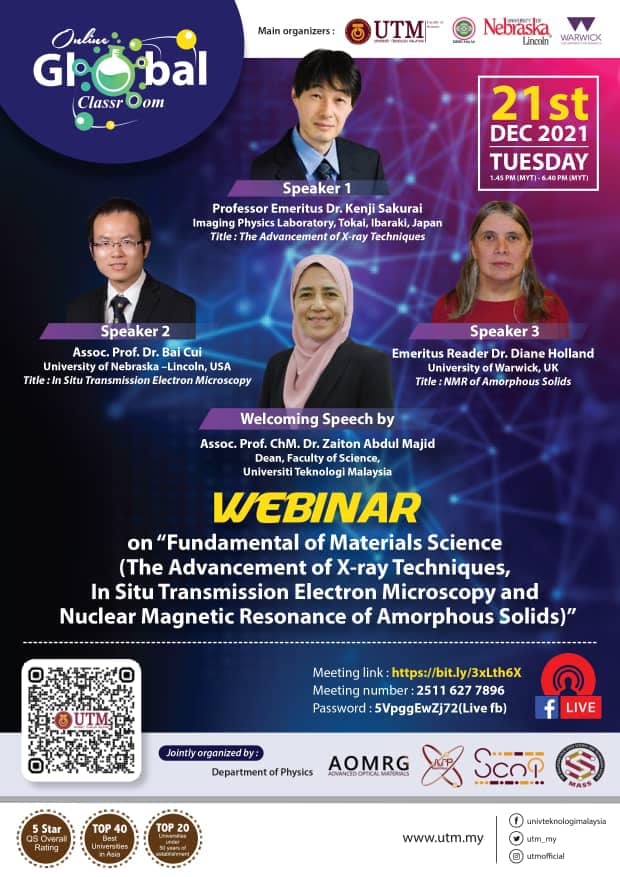 Online Global Classroom FS 2021
Department of Physics, Faculty of Science, UTM in collaboration with Advanced Optical Materials Research Group (AOMRG), Nuclear & Radiation Physics Research Group (NuRP), Scientific Computing and Instrumentation (SCNI) and Malaysia Solid State Science and Technology (MASS) Chapter UTM are organizing a Webinar on Fundamental of Materials Science (The Advancement of X-Ray Techniques, In Situ Transmission Electron Microscopy and Nuclear Magnetic Resonance of Amorphous Solids)
Link Schedule & Virtual Background:
https://drive.google.com/…/1CZe0l9SS2wuC2iuNMKg…
Speakers:
Professor Emeritus Dr. Kenji Sakurai (Imaging Physics Laboratory, Tokai, Ibaraki, Japan)
Assoc. Prof. Dr. Bai Cui (University of Nebraska – Lincoln, USA)
Emeritus Reader Dr Diane Holland (University of Warwick, UK)
Date/Time/Schedule:
21st December 2021
1.45 – 6.40 pm (MYT)
Please click on the following link to pre-register:
Join via Webex at
Meeting number: 2511 627 7896
Password: 5VpggEwZj72
LIVE STREAM via FB Live at
This program is open to everyone!
CPD will be given to UTM staff.
E-certificate will be provided.