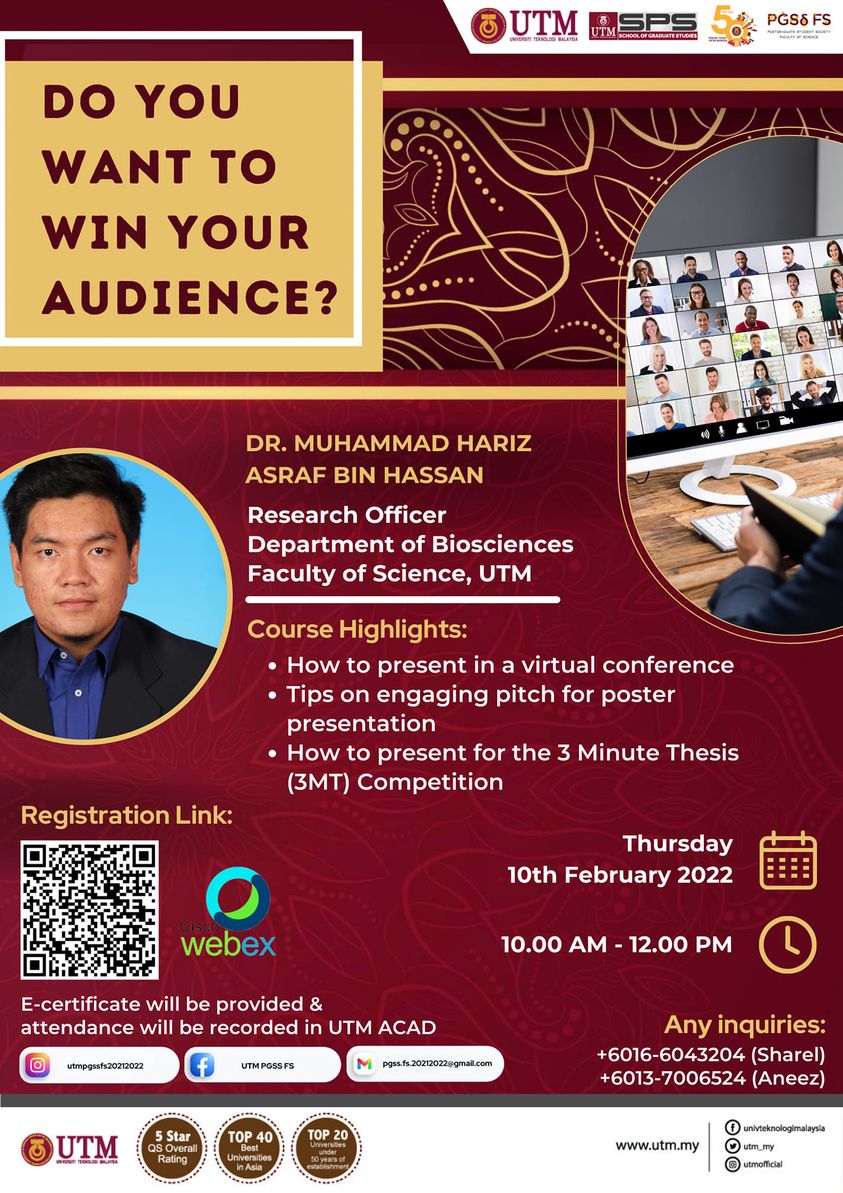 Assalamualaikum w.b.t & Salam Sejahtera/Good day,
Salam UTM Sanjungan Bangsa
Prof./PM. Dr./Dr./ Mr. / Mrs.
[DO YOU WANT TO WIN YOUR AUDIENCE?]
Are you nervous about giving a live or virtual presentation?
Are your thoughts going blank as you start pitching and you're at a loss for words?
What if I told you that there are numerous approaches of dealing with this challenge
Well' you're in LUCK! Join us to find out the solution
You are cordially invited to attend the sharing session organized by Postgraduate Student Society Faculty of Science (PGSS FS) entitled "DO YOU WANT TO WIN YOUR AUDIENCE"
So, WAIT NO MORE! Come and join us
Join us by referring in the details as provided below:
Date: 10th February 2022
Time: 10.00 am – 12.00 pm
Honourable Guest: DR. MUHAMMAD HARIZ ASRAF bin HASSAN
Research Officer, Department of Biosciences, Faculty of Science, UTM
Platform: Cisco WebEx
Meeting Link :
https://utm.webex.com/utm/j.php…
Please fill in the registration link below:
Kindly spread this invitation to your colleagues.
E-certificate will be given & Attendance will be recorded in UTMAcad.
Any inquiries, please approach :
Sharel –
https://wa.me/60166043204
Aneez –
https://wa.me/60137006524