Women in STEM – Scientists Back to School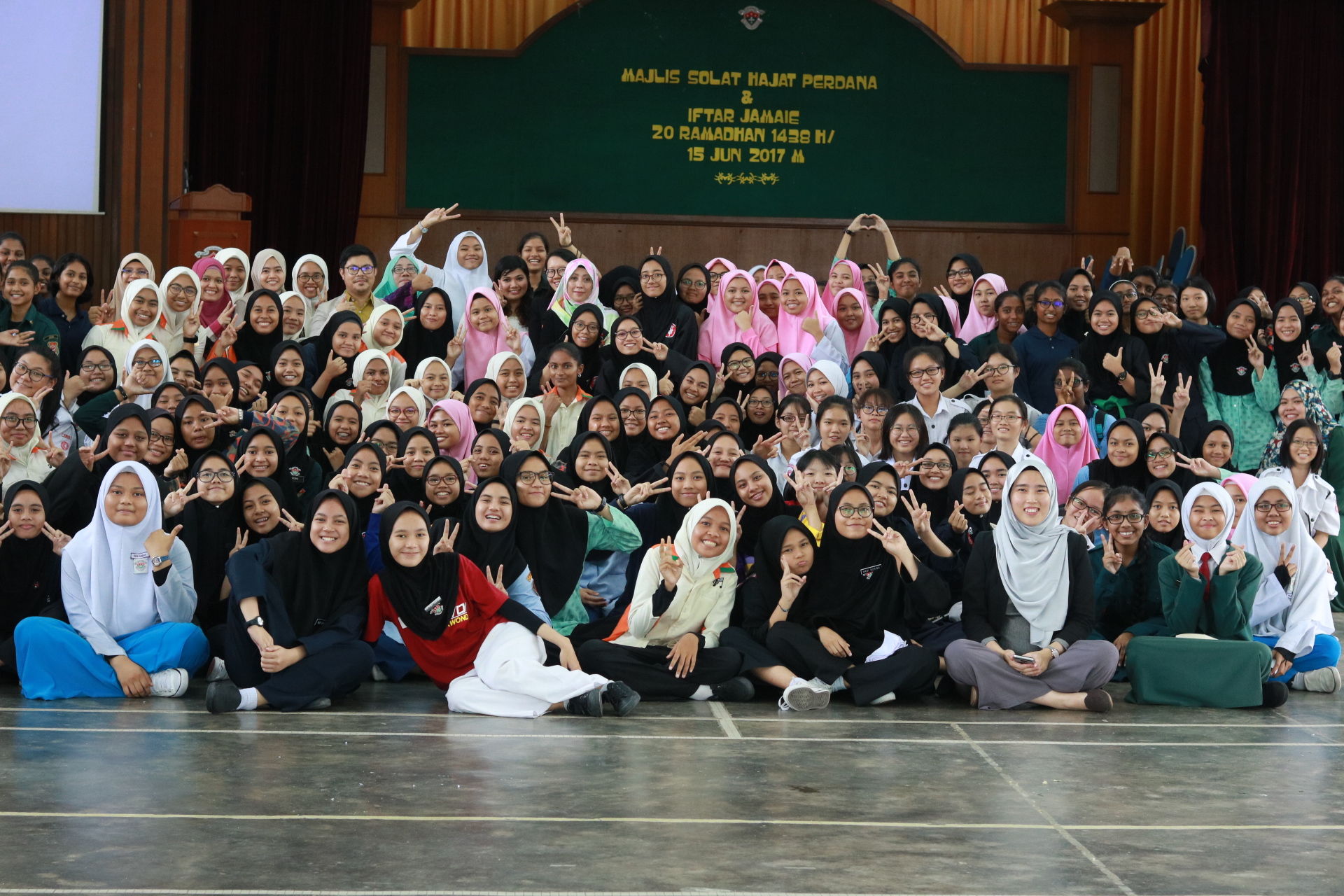 On the 14th of June 2017, the "Women in STEM – Scientists Back to School" programme, organized by the STEM Committee of the Faculty of Science, UTM (STEM@FS), was held at Sekolah Menengah Kebangsaan (P) Sultan Ibrahim Johor Bahru (SIGS). This event was spearheaded by 7 lecturers from our faculty, with Dr. Sheela Chandren as the leader. The other 6 lecturers that were involved in this programme were Dr. Mohd Bakri Bakar, Dr. Nor Ain Husein, Dr. Nabilah Kasim, Dr. Aemi Syazwani Abdul Keyon, Dr. Khairil Juhanni Abd Karim and Dr. Nursyafreena Attan. The participants of the program were 189 Form 3 students of SIGS.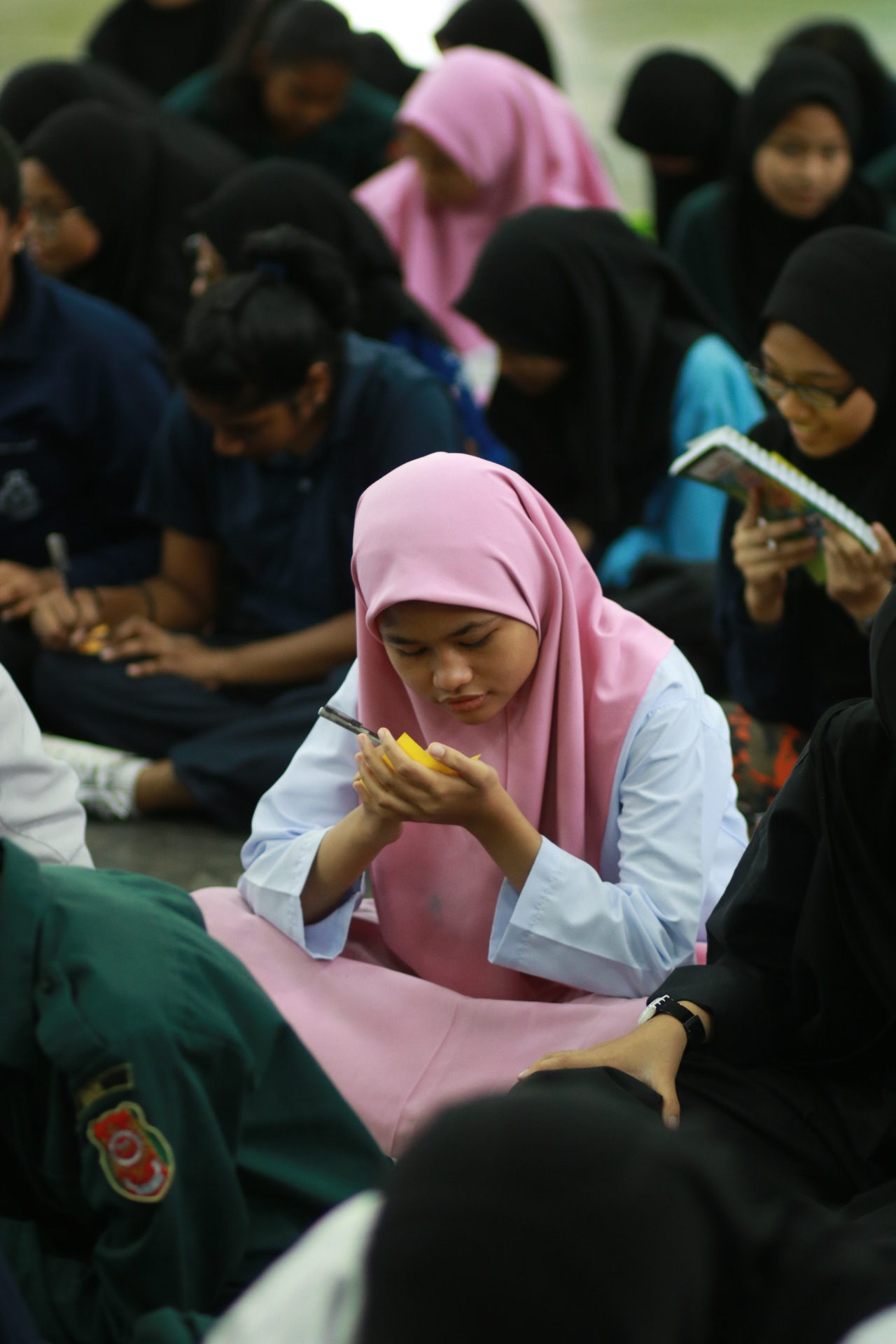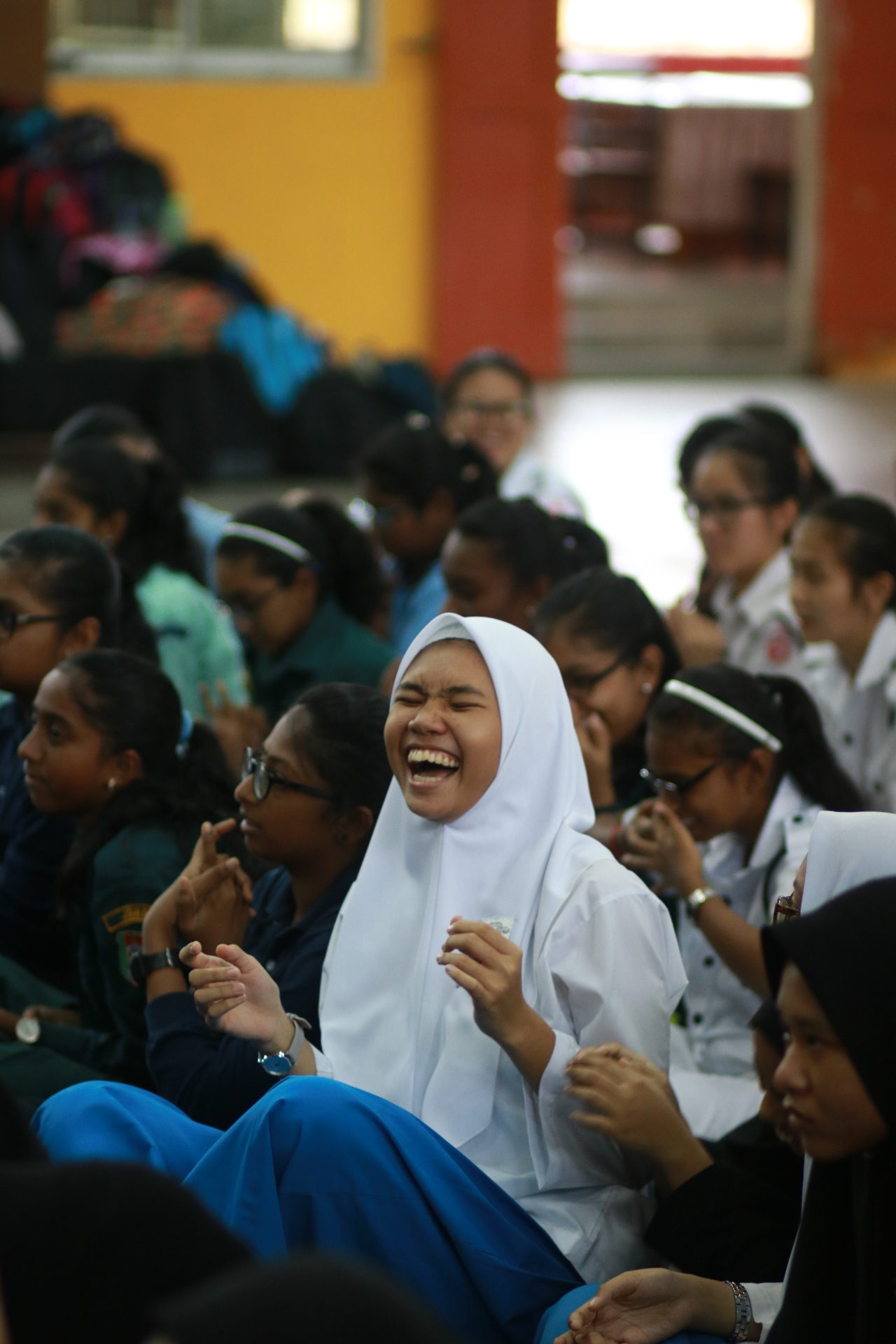 During the ice-breaking session
 The programme started with a round of ice-breaking, where the students were told to write down their experience in Science, be it good or bad, and paste it on the designated wall. Then, some of the examples were read out and the students clearly had tonnes of fun. Following that, Dr. Mohd Baki gave an introductory talk on Young Scientists Network-Academy Sciences of Malaysia (YSN-ASM), exposing the students to the possible networking opportunities and future of Science in Malaysia.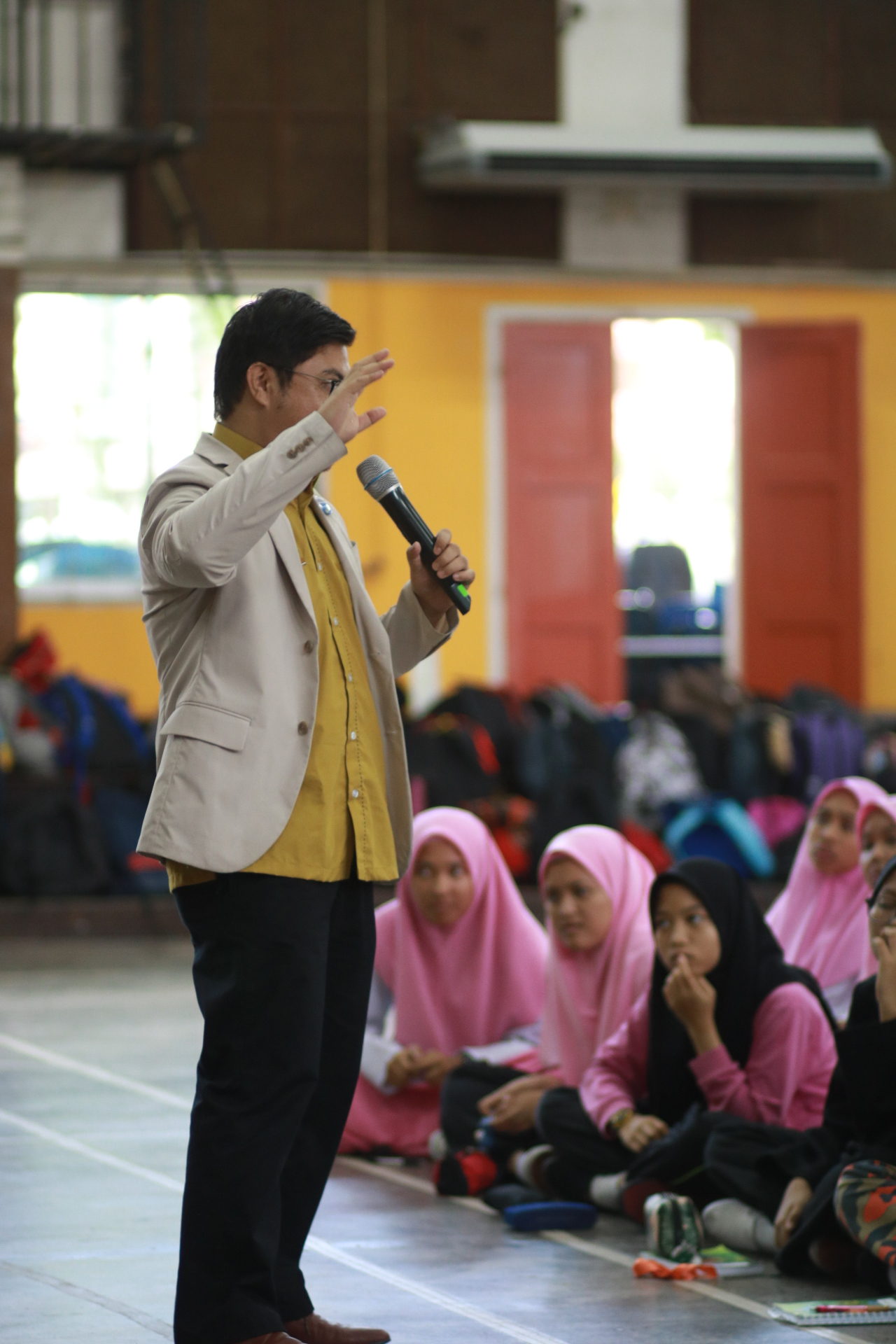 YSN-ASM Introductory Talk by Dr. Mohd Bakri Bakar
Then it was time for the highlight of the programme, which was the Women in STEM Careers Forum. The forum was moderated by a Form 4 SIGS student, Miss Elisa Syafiqah Shahrilnizam, while the panellists were SIGS alumni; Prof. Dr. Noor Aini Abdul Rashid, professor at FBME, UTM, Madam Poo Sher Lin, Asst. Manager of Allied Chemists Laboratory Sdn Bhd, and Dr. Sheela Chandren, Senior Lecturer at FS, UTM. Apart from relating their experiences in their respective work fields, the panellists also touched on the various interesting experiences in SIGS, much to the delight of the students. The session also gave a chance for the students to ask questions to the panellists, mostly related to careers in STEM.

During the Women in STEM Careers Forum by the Alumni of SIGS
After the forum, a short certificate-giving ceremony was held, attended by Pn. Susilawati, Head of the Science and Mathematics Panel of SIGS, science teachers, lecturers and all the participants. A briefing on the 2nd series of the programme, which will be held in November this year after the PT3 examinations, was also given. The programme continued with a short group-photo session, before bidding farewell to everyone. It was indeed a very fruitful and happy day for all those involved. Further details of the programme can be obtained at http://science.utm.my/stem/womeninstem/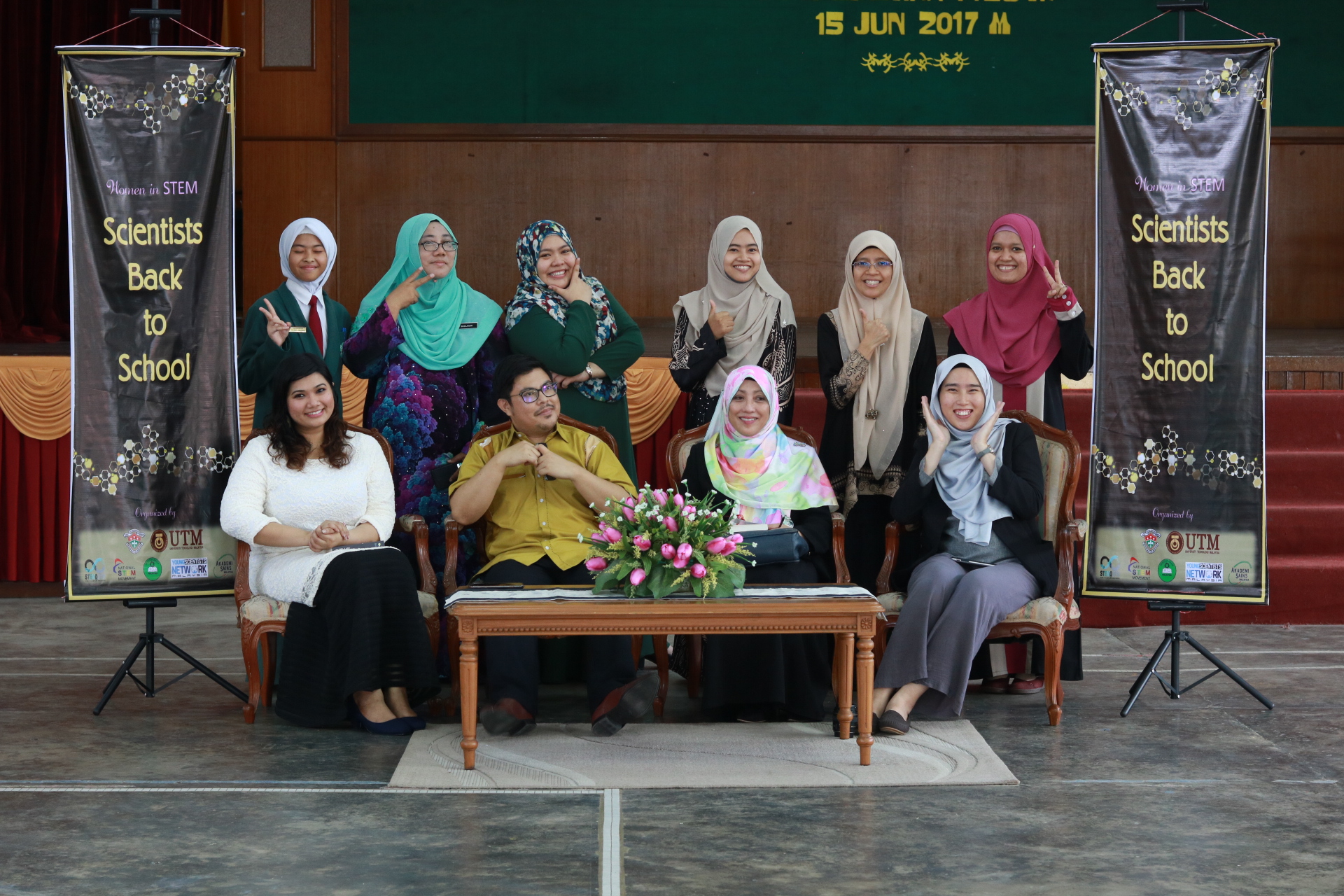 The happy faces of the Cikgu Susilawati (standing, second from left), the moderator Elisa Syafiqah (standing, first from left) and all organizing committee